Methods and tools to boost productivity and reduce stress
What is to be productive?
We're starting a new year with hope and optimism! But you should take a brief moment to consider how you're doing right now and where you want to go in the future. Because, if the method of work is the one we've always known, and we don't make that refreshing-mindset step, we might end up in a situation where nothing moves or grows.
And that's not what we want! We want to be productive, but also happy.
When we talk about productivity, the usual concept is an abstract version of efficiency, where the tasks we receive equals the number of things we do, but the truth isn't just that. 
"Productivity is a measure of economic or business performance that indicates how efficiently people, companies, industries, and whole economies convert inputs, such as labor and capital, into outputs, such as goods or services." –
www.netsuite.com
We will find thousands of definitions that will focus on that description, but what is now come to the surface, after pushing aside workaholic culture, is that we have to focus on what we can do with the time we have. We will organize a better time itself and won't succumb to burnout.  
We are not systems nor machines, and we can give our 100% on our day-to-day and still need external support. That is why learning different techniques can provide that without overdoing our capacities or efforts, but enhancing them. 
We have tools and methods that will increase productivity if you follow them and use them correctly. These recommendations can even decrease stress and help you find balance and happiness in your life and work.
Top Methodologies for Productivity
Time Blocking
Time blocking is one of the favorite methods around because it allows you to organize daily tasks, but also assists you in setting medium and long-term goals. 
It also helps incorporate personal tasks without affecting daily work objectives, allowing us to advance both our professional and personal goals.
How can you apply time blocking?
As the word says, it's all about blocking time in your calendar for specific assignments.
First, get a notebook, calendar, app, or whatever you plan to use to organize your time and select the time you know you will be working, or you can use for your tasks, and distribute them throughout your chosen time. 
Once you determinate the tasks and the time you needed to organize, take your calendar and block the time writing down the activities, that way you will know what day and at what time you have to do what, and how much effort will take to move forward productively.
What does blocking mean? It's to assign a task to a specific time block and follow through respecting it.
Blocking the time slots helps you meet the deadlines and create objectives that will progress on time.
Is recommended that you do your time blocking when the week begins, or when the day starts, that way it will help you identify specific objectives for that week or further ahead. 
We can determine when we are most productive and when to put strenuous tasks at a specific time with the knowledge of our effort and time available for it. It let us accommodate our schedule to perform tasks that do not require so much concentration in the less effective hours.
One of the advantages of time blocking is that we do not leave our calendar completely open, which can often mean that we are fully available for any meeting or commitment at any time. We can also communicate effectively and assertively with our teams and leads using this method.
Want to dig in into time blocking?
Todoist | Rescuetime | YouTube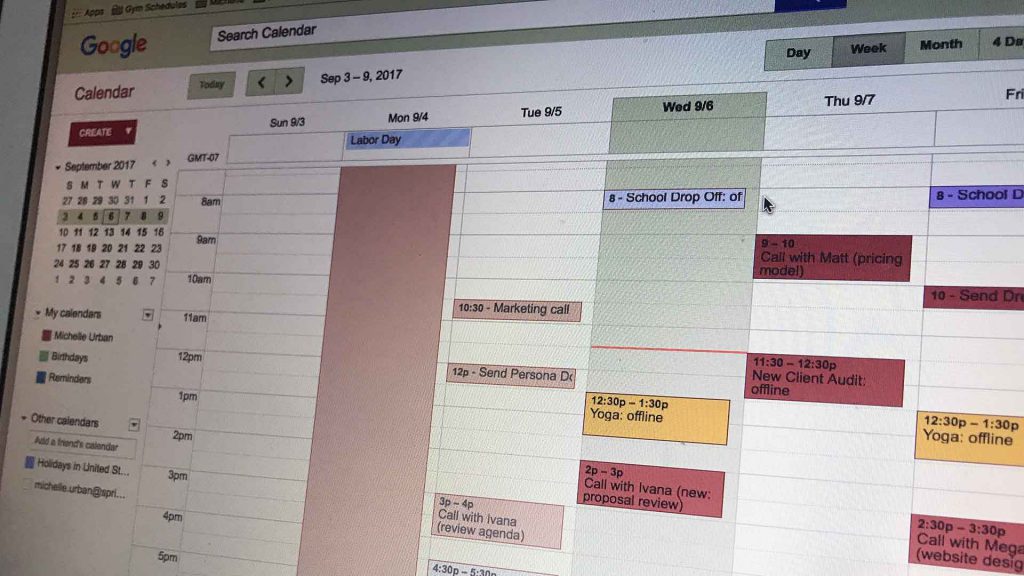 Bullet List or Bullet Journal
The bullet journal or bullet list helps us through task planning.
We divide tasks into a daily and monthly organization, meeting goals and deadlines without a problem. This method allows us to define the periods of months or even years in which we want to work little by little or take on big tasks.
For example, if you have a trip planned for the end of the year and you want to do all you have in mind, you'll need an orderly manner to achieve it. This methodology will help establish the order and importance of tasks throughout the year or period set.
Bullet journaling has the advantage that you can start in whatever month you are. There is no need to feel that January or Monday pressures; the bullet list will adapt to your needs.
How to do Bullet Journaling? 
Step 1: Gather your tools! Start a bullet journal with a notebook and a pen. Add colors or other supplies to help you with organization and focus.  
Step 2: Create the index pages. If you are diving time or tasks importance, this will help you go straight to the page you need. Labels are essential in this case!  
Step 3: Set Up the future log. Record upcoming holidays or birthdays, vacations, and other important dates to become a general reference guide.
Step 4: Set up the monthly log. The Monthly Log is a one or two-page spread that helps you organize your month. Open a blank page and write the month at the top of the page, then add the number on the page and put it to your Index. There are different ways to make your Monthly Log, but we recommended writing the dates 1-30 down the side of the page, one per line. Also, for better order, write the first letter of the day of the week next to each number like 1M, 2T, 3W, etc. 
Step 5: Set up the daily log. To set it up, open a blank page, write the date across the top of the page, and number the page. Then add Tasks, Events, and even Notes. You can set aside time in the early morning before your day starts to do the list out your bullets, but leave a space too for those who come around the day when they occur to you.
The fundamental notion of the bullet journal is that it's you doing it for you! There's no point in doing it if it will cause you stress or anxiety. This tool is to help you and your progress to become better personally and professionally.
Bullet Journal for work
Bullet journaling is a handy tool if you are going to use it at work since companies usually are managed by quarters, and with a bullet journal, you can adjust the objectives for each quarter, both big and not so big tasks. 
You can also set the tasks to be worked week by week, by month, and until the delivery date, giving you control over your work and more stability to your team. 
If you are interested in learning more about journaling and bullet journal in specific, we invite you to visit bulletjournal.com, where you will find the details of the methodology, its symbolism, and recommendations that will have you starting right now making it your own.
Best tools to be more productive
We already talked about techniques, now let's talk tools. We will mention the ones that can support these previously mentioned methods and allow you to see the productivity you are hoping to achieve.
Elisi
This application focus on the Bullet Journal and Kanban. In it, you can set your daily, monthly and annual goals, which will make you feel more motivated while you earn stars for your achievements, and gradually realize all those goals you have planned for the year.
Web | iPhone | iOS | Android | Windows
Pomodoro
More than an app, Pomodoro is a productivity booster, and it has become very famous for helping with life-work balance. You can block time for a task you want to focus on, work on it for 25-30 minutes and then take a short break. After four of these sessions, take a more extended break to reset.  The breaks can be extended, depending on how heavy was the task and how you feel.
Web App | Web App | iPhone | Android  
Centered
This app uses the "Flow" methodology, but what is "Flow"? Popularized by psychologists Mihaly Csikszentmihalyi and Jeanne Nakamura, a flow state is a sensation in which you become so involved in an activity that you lose track of time, because you find yourself comfortable with the conditions both physically and mentally. When you're focused on something you're truly passionate about, individually dedicated to, and completely absorbed in, you might find yourself setting the circumstances for a flow state of mind. The usual babble in our minds fades away, putting us in a zone free from interruption. This application will help you enter the flow state and train you if you find it difficult to concentrate for periods.
The objectives of flow are:
Keep it simple

Limit distractions

Make clear goals

Make it enjoyable

Maximize your potential
Slack
Slack brings a lot to the table. It helps us keep in touch by text, call, or video call. It also encourages sharing because it allows you to save important information through links or bookmarks at the top of the channels. In addition to the bookmarks, you can create folders and organize the shared material within the chats. It integrates applications as well to create more interaction between different platforms and alerts, automatic messages, polls, and more.
Google Workspace
Google applications, such as Drive, email, Calendar, and Meet, are tools that allow us to organize, plan, create and share work.
Google Drive allows the creation of documents, presentations, excel sheets, forms, mind maps, diagrams, and so on. It is Google, after all. With all these options, you can create all the content you need to work more efficiently while collaborating quickly and sharing with others.
You know Gmail! Or do you? This tool is one of the least explored or underutilized in our daily lives. In it, we can create templates, filters, schedule emails, create multiple inboxes, synchronize multiple accounts, prioritize with labels, and much more. Do fear your mail but own it!
The Google Calendar can not only be your ally for meetings. You can also use it for your time blocking methodology and organize your weeks efficiently, leaving specific spaces for your meetings and the "available times" option. 
You can also create tasks and reminders and define your out-of-office days (which automatically cancel your meetings and send messages to people involved in your work). 
If this calendar is shared, your team will confirm your availability and respect your time accordingly! Time is golden, and respecting it is easier when you know yours and others! 
Our day-to-day is what we make of it, and the little things we make for our productivity, happiness, peace of mind, and growth are what will determine our future as well as our present. 
These methodologies and tools are just a few. Today, with a world full of motivations and distractions, it is challenging to stay focused, so whenever we can, we should add or seek tools that are optimally suited to our methodologies for better focus and improvement of productivity.
Creating the habit of using these methodologies and tools can improve your productivity, but it can also add so much more to your life and to your time.
We invite you to follow our journey to a healthy, effective and happy work culture at DNAMIC with our official blog and social media platforms!